Keep Your Mind Healthy and Active
September 26, 2019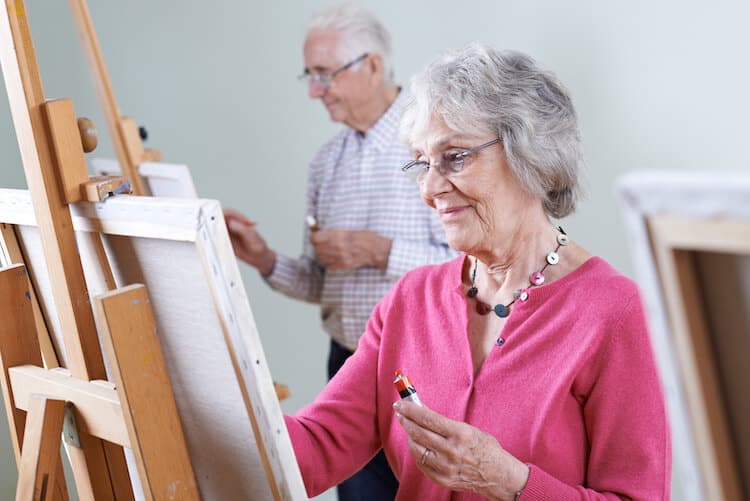 One common notion about the normal aging process is that cognitive decline is an unavoidable outcome. However, this isn't entirely true. Healthy mental aging is determined by a variety of factors, including lifestyle choices. Studies show that engaging in mentally stimulating activities, even later in life, may decrease the risk of mild cognitive impairment.
A healthy, active brain leads to a more engaged and fulfilling life. That's why helping you achieve maximum wellness through healthy brain activities is a goal at Monroe Village. This post explores some of our favorite things to do in the community to keep your mind sharp.
Healthy Brain Activities in Our Community
Read a Good Book: Becoming engrossed in a story enhances connectivity in your brain and improves brain function. At Monroe Village, you have access to our community library, an educational hub filled with books and newspapers for your use. Here, you'll stay on top of the latest current events and open your eyes to hundreds of different worlds presented by your favorite authors.
Tap Into Creative Hobbies: Activities that focus on hand-eye coordination and creativity help exercise your mind. And, along with the pride of taking on a new hobby, expanding your talents engages your brain by improving memory and cognitive function. We offer an onsite creative studio, where you can express yourself by making something new. You're able to take classes, like a painting or writing class, or stop in to work on your newest project.
Spend Time With Family: There is a special bond between grandparents and grandchildren, and the time you spend together benefits brain health and mental stimulation. Daily communication with others makes for an active mind, and you can also strengthen your memory skills and cognitive function by telling stories of your own life. Visits from family are highly encouraged, and our community even offers a kid's zone for keeping little ones engaged.
Play Games That Challenge Your Mind: Participating in card and board games with friends offers the competition and exercise your mind needs. Not only is this a time for social engagement, but regular card playing increases patience, concentration and strategy skills. Our weekly game meetings include Scrabble, checkers and Wii bowling, but residents are always encouraged to grab a deck of cards or board game and play in one of our many open community areas.
Enhance Your Friendships: Connecting with your community is beneficial to your health in so many ways, including an increase in mental stimulation. In fact, studies show that positive relationships can help protect against memory loss. Resident Guy Darrin appreciates the people he's met at Monroe Village and shares, "The people here – the staff as well as residents – are all very, very friendly. You don't pass anyone in the hallway who doesn't return a 'good morning!'"
Learn More About How to Keep Your Brain Healthy at Monroe Village
At Monroe Village, we're focused on helping you live the happiest, healthiest life you possibly can – and that includes ensuring a healthy mind. Contact us today to learn more and schedule your personal tour.